A few days ago, I kicked back and finished my Kingdom Hearts II game. It's about the second time that I did. First time I did was back in the Philippines. I moved and left my PS2 and all my video games with my relatives on the other side of the world. Anyway, I didn't really intend to finish KH2 this winter. I guess it just happened.
I left my new PlayStation 2 untouched after summer break had ended since fall semester began. So much for summer, ey? It was barely two weeks, but that's a whole different story. Anyway, I was back to adventuring with my beloved Sora, Donald and Goofy. Defeated Xemnas. Hooray. Ahh yes, I quivered with fear~ Silly Nobody. But indeed, Kingdom Hearts' villainous motives always seem to amuse me.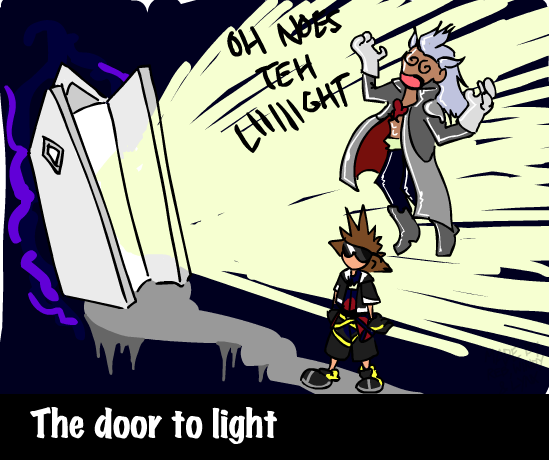 The ending wasn't as satisfying as the first time. Maybe because I was rushed into it. Yes, you read that right. I was rushed into it. I didn't say I rushed myself into it, but rather I was rushed into it by a specific someone. That someone was my sister.
While I was pouring my brains out on Calculus and the like during the fall, she began her own Kingdom Hearts game of her own–to the point where she passed where I was in game. Not that I minded or anything. It's just fortunate to be younger and have time to play video games without worrying about failing a midterm. And no, I didn't fail my midterms. Gladly.
I continued my game for the heck of it. I came to this point where I was almost finished with the game yet was particularly lazy. She was stuck in the battle with Luxord so she made me pass that part to show her how I could beat him. So I did. Yay? I guess. At that point, she just made me finish the game. It was three in the morning after defeating Xemnas' last stage for like 371892 times. Stupid flying light sabers.
Point is, I finished the game. I enjoyed the ending yet I still felt incomplete. Like I needed more out of playing with my game console. It wasn't as fun as before. I think part of that had to do with the idea of being rushed into it. Maybe it has to do with age? Oh my, I hope I didn't just grow out of my love for RPGs!
But then, it hit me today. How I just want to relive that moment of being fascinated with a game because it was particularly intriguing. Not because everyone was playing it, and they told you it was pretty awesome, so you had to play it. I mean, don't get me wrong, I love my Kingdom Hearts and Final Fantasy. But when it comes down to it, my love for RPGs will forever be rooted in Legend of Legaia.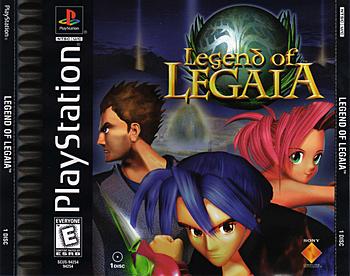 Unlike almost everyone else who grew up having their own Gameboy or Nintendo 64, I was unfortunate to not have one. In fact, I didn't discover the real beauty of video games until I spent most of my summer days at my Ate Marvi's house (A-te is a term that sorta means elder sister in Tagalog. Related or not, it means a girl who's older than you). She had gotten a PlayStation that time and a bunch of us would play Streetfighter and Mortal Kombat. But there was this one game which she had that we didn't really play. In fact, we couldn't get past a certain part. That was Legend of Legaia.
Kuya Mars (Ku-ya is elder brother) started playing the game but eventually just got stuck at the point where Vahn and Noa fought Caruban atop Mount Rikuroa. I had no idea what to do since I would just watch him play. I didn't know anything about RPGs. I was just a button masher. In fact, seeing my kuya struggle in this made me uninterested in playing RPGs for the most part. He was like the king; I looked up to him 'cause he can totally pwn on video games. So then, I just lost hope. That is, until one fateful day.
My parents bought me my very first game console. My own PlayStation! I believe I was 9 years old. The first few games I remember purchasing were Mortal Kombat, Legend of Legaia and DDR (with the dance mat to boot). There was a limited selection of CDs where I purchased my PlayStation. But I had to make do.
What was it with Legend of Legaia? I didn't know anything about it. Neither did anyone else since it was an unpopular game. Since I had prior experience with it already–by that, I mean just staring at the blocky people do Kung Fu on screen–I told myself I'd give it a go. I'd give this RPG a chance.
So eventually I got to the point where my kuya got stuck. At 9 years old, I was pretty much bland about the situation. "Oh great, now what?" It seemed that I didn't even want to bother or try. But for some reason, I beat him. I beat that beastly Caruban. I beat that dang monster my kuya couldn't even defeat. With this, it felt so rewarding having somewhat surpassed my kuya. I smashed that monster and revived the brilliant Genesis tree, thus freeing Drake Kingdom of ze evil mist! Har har!
And this is all where it began. Eventually, I conquered the game (more than five times LOL). I felt this attachment to the characters more than ever. There was more to a video game than just pretty graphics (though, might I add, Legend of Legaia had pretty sweet specs for a game made in 1998). There was a story. There was music. Emotion?! This was also the reason why I wanted to be a lefty; Noa was left-handed. Shallow, I know. But c'mon, she can seriously kick butt!
My numerous creative ideas stemmed from the influence of RPGs. They said video games are bad for you. I think not. It's what broadened my mind and inspired me to do the things I do right now. From video editing to writing stories. From drawing to playing the guitar. Every little thing.
I still retain that ultimate goal of working at Square Enix someday. Hah, sounds impossible, I know. I'll keep dreaming. But for now, how about someone give me a copy of Legend of Legaia? I'd love to revisit my roots.
Roots? Get it? Legend of Legaia, Genesis trees? Trees have roots? Hahaha. Okay, I'll shut up now.